MARITIME SURVEYS

Marine Surveyor in Palm Beach
ON HIRE & OFF HIRE CONDITION SURVEYS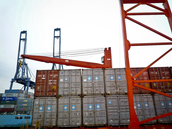 These are surveys of vessels undertaken either before the vessel is delivered into a charter, or redelivered from a charter. Delivery/ReDelivery (On/Off Hire) surveys are done for Loss Control in supervision of loading/discharging of petroleum and other products by tankers and barges. The On/Off Hire Survey report will include a detailed description of a vessel's cargo spaces/deck area structural condition, bunkers on board, listing of vessel's statutory certificates, portable securing equipment, examination of open or closed Stevedore damages, etc. Survey will also include bunker certification to DLSOP or last sea station, for either beginning or ending of a charter.
---
DRAFT SURVEYS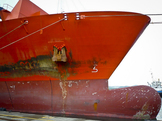 A Draft Survey will provide accurate determination of cargo weights by displacement. The purpose of a Draft survey is to determine the amount of cargo loaded or discharged for the benefit of all the interested parties. Marine Surveyors Bureau's draft surveys achieve accuracy to within 0.5%. These surveys are conducted meticulously, and take into account all the prevailing circumstances. The final report incorporates every aspect and difficulty which has been encountered in order to convey all aspects of the survey. Our Draft Survey Certificates are according to UN, ECE international Code.

---
VESSEL CONDITION/VETTING SURVEYS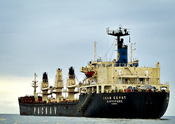 Captain Frehm will perform a complete assessment of the vessel's condition and its valuation appraisal, with objective parameters and tools procedures based on market information analysis, which can help Charterers and Owners for their Sale/Purchase decisions. Complete photographic records and well supported information make our Certificates valuable documents that can better protect the interest of both the valuer and any party relying on it.
---
P & I INVESTIGATION & GENERAL AVERAGE SURVEYOR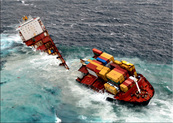 Marine Surveyors Bureau has a team of experienced and qualified surveyors able to attend to most of the major commercial hull and large cargo damage claims on behalf of Protecting & Indemnity Clubs and Cargo and Hull Underwriters. Sometimes the delays related to an incident become more expensive than the damage itself. MSB prides itself on the prompt attendance to our clients needs, along with complete technical reports issued within a reasonable time with independence and impartiality criteria. Our team is ready to act as "General Average Surveyor" and can be on site within hours of notice.
---
CRANE TESTING AND CERTIFICATION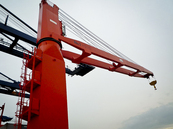 Captain Frehm is certified to inspect and issue annual certification of overhead and rail mounted gantry cranes, mobile cranes, dockside cranes, forklift trucks, Mobile trucks, Tower Cranes and Slings. Services to ship/shore container, dockside, rubber and rail mounted gantry crane, re-engineering and refurbishment of cargo handling equipment, third party, consultancy, upgrading and safety. Tension measurement with load cell certification available.
---
TUG AND TOW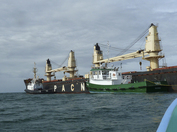 Tug and Tow surveys to ensure that the towing vessel and towed vessel are fit for their intended purpose.
---