PRE-PURCHASE SURVEY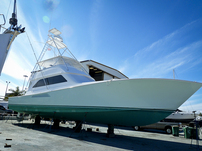 A Pre-Purchase Survey is ordered by a prospective buyer and used as a condition of purchase, before the sale of a vessel is completed. The survey report will include the fair market value of the vessel, based on comparative market research and the vessel's condition and also will include new replacement value. A Pre-Purchase survey includes inspection of the vessel in-the-water, out-of the water, and during a sea trial, to determine and prove, the condition of the vessel and all her systems, structurally and operationally. This all important survey will help a buyer decide whether to continue with the purchase or not, and can be used as a powerful negotiating tool. Most importantly, it is absolutely critical that a buyer will know the condition of a vessel he or she may be buying, for safety at sea reasons. The written report includes a "Findings and Recommendation" section backed with full photographic evidence regarding any vessel deficiencies, flaws, defects, or missing items, especially regarding safety equipment. Structure of the vessel, her systems and their installation, safety, or any part of the vessel that does not conform to ABYC Standards or U.S.C.G. rules and regulations, will be listed in the "Findings and Recommendation" section of the report. The report will be sent to you by E-mail and a hard copy mailed if requested. Your pre-purchase report can also be used after purchase, to send to your insurance company for proof of the vessel's value & condition. Being an Accredited Marine Surveyor member of SAMS®, the Society of Accredited Marine Surveyors, assures you that this report will be accepted by all major insurance companies worldwide.
---
PRE-PURCHASE SURVEYS INCLUDE IN-WATER and HAUL OUT INSPECTIONS WITH SEA TRIAL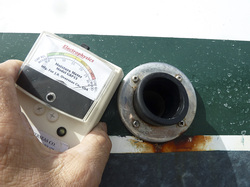 Moisture Readings of Topsides
In-Water inspection will cover both the exterior and interior of the vessel, including the vessel's superstructure, decks, hardware and all marine systems and equipment. Moisture levels will be tested of decks, superstructure, stringers, bulkheads, hull topsides and vessel's superstructure, paying particular attention around bedded hardware. This part of the survey will also include non-destructive testing and inspection of both the AC and DC electrical systems, including shore power hook ups, inverters, batteries and generators. All electronic equipment will be proved as to function. All on-board systems will be inspected, including but not limited to: fresh water, grey and black water tankage and pump systems, fuel systems, bonding and grounding, air conditioning, bilge pumps, high water alarms, and all U.S.C.G. required safety equipment. The interior of the vessel will also be checked with a moisture meter, paying close attention around deck hardware, port lights and hatches for any evidence of water intrusion. All bulkheads and stringers will be inspected for structural integrity. Propulsion machinery and machinery spaces are visually inspected before, during and after sea trial. Operational testing of generators performed to determine voltage levels, correct polarity, Frequency and serviceability under full loads. All areas and systems of the vessel will be inspected as to condition and function, as part of a Pre-purchase Survey.
The Out-of-Water "haul out" inspection will include the complete inspection of the vessel's wetted surfaces, topsides, and underwater machinery. Non destructive testing will be undertaken to determine the moisture content of the topsides and decks. Particular attention will be paid to hardware bedding areas and areas of stress. Phenolic sounding of the hull will be done to test for possible damage, including but not limited to, de-lamination, high moisture content or voids in the vessel's hull and topsides. Underwater machinery will be carefully vetted for trueness and serviceability.
The Sea Trial will be conducted to evaluate the ship's running systems including, but not limited to, steering, propulsion, rudders, control systems, navigational equipment and general performance of the engines and gears. Infrared temperature readings will be taken of exhausts, engine parts, shafts, stuffing boxes and generators. All electronic systems such as, VHS, auto pilots, depth recorders and GPS will be proved. Visual inspection and readings from vessel's engine and transmission gauges will be observed and recorded throughout the vessels full range of RPM's. Oil samples can be taken, upon request, and tested for abnormal wear, for all propulsion machinery and generators.
Note: It is the Buyer's responsibility to arrange for Haul Out and Sea Trial, with the vessel's representative, and pay related expenses.
---
INSURANCE EVALUATION SURVEYS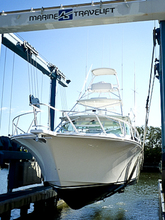 Most insurance companies require a "Condition & Value" marine survey report on older vessels in order to issue a new policy or renew an existing one. Insurance companies need to know whether a vessel is safe for conditions for which it was designed. In other words, Fit for it's intended use!
Please note that an Insurance Survey is not to be considered a Pre-purchase inspection. This "Condition & Value" survey is not nearly as detailed as a Pre-purchase Survey. It does not include operational tests, inventory of equipment or sea trial. It will include inspection of the documentation of the vessel, compliance with applicable standards, condition and fair market value. If an inspection of the underwater areas of the hull and running gear is requested by the insurance company, a haul out inspection of the wetted areas and underwater machinery of the vessel will be done with the additional expense for the haul out being the owner's responsibility.
Due to being a SAMS® AMS, Accredited Marine Surveyor, Captain Sadu Frehm's Insurance Condition & Value Surveys will satisfy the evaluation requirements of all insurance companies worldwide.


---
DAMAGE CONSULTANTS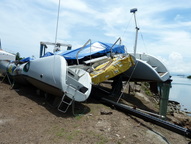 Damage Surveys are performed to identify the scope and nature of a loss including the cause of loss. MSB Damage Reports will include reviews of repair estimates and monitor the job for completeness, whether or not the damages are associated with a specific insurance claim. This service is often performed for Underwriters and Adjusters, including a written report with photographic evidence of damage and repairs.
---
VESSEL APPRAISALS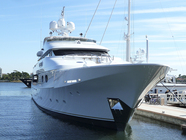 An Appraisal Survey is often required for income tax purposes and for lending institutions.
The Appraisal Survey is a Condition & Value report, but less detailed. The report will state the general condition of the vessel, it's current market value and will be acceptable to all lenders for purposes of securing a loan, settling an estate, exporting a vessel, or reporting donations to the I.R.S. for tax purposes.
---
CORROSION AND BONDING
A Corrosion and Bonding Survey will report the electronically measured hull potential using a Silver Chloride Half Cell as a standard. This will determine the efficiency of the vessel's grounding and bonding system to protect against possible fatal electrical shocks, damage from galvanic corrosion, stray current corrosion or other. The corrosion inspection will evaluate the cathodic protection on your boat, check the AC and DC grounding systems and tell you the electrical potential of your vessel in relation to your marina. This information and any recommendations to improve your protection will be provided in a detailed report.


---